Dave's Hobby - Antique Radios

My Antique Radio Restoration Logs
Dave's hobby is collecting and restoring antique radios. In late 2014 we consigned most of my collection of radios, TV's and antique slot machines to Estes Auctions in Ohio in preparation for downsizing. But I did retain some of my favorite radios, as well as some items the wife insisted we keep! Here is the approximate state of the collection prior to downsizing. And below is my current collection of items (several radios are being restored and will be added to the collections when finished):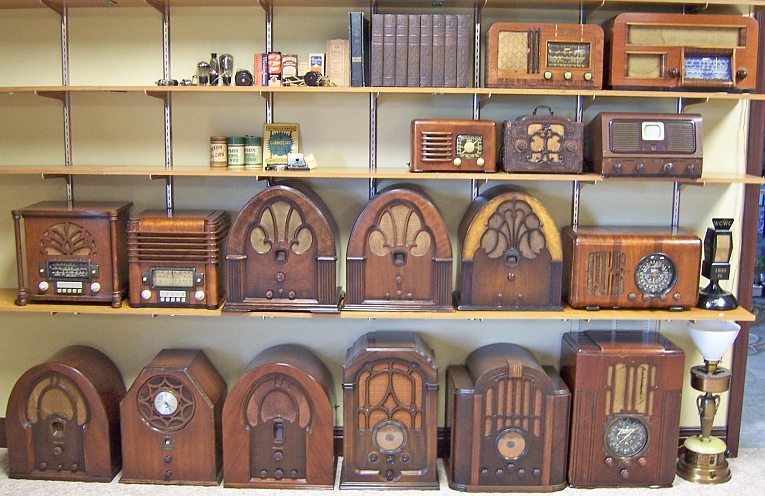 Top Row: Crosley 141 Library Universal, Zenith 5S642BT Export Model, Zenith 6S541BT Export Model
Second Row: Zenith 6D525, GE L-50 Repwood, Pilot TV-37 3" TV
Third Row: Zenith, 8S434, Zenith 7S433 "Zephyr", Philco 90B, Philco 70B, Philco 20B Deluxe, Zenith 6S223, Universal Publicizers Mike Radio (fixed tuned)
Fourth Row: Philco 43B, Erla 271-A With Clock, Philco 16B Cathedral, GE K-80 (RCA 140), RCA 143, Zenith 9S30, Radio Lamp Co. of America "Torchier".
| | |
| --- | --- |
| | This is the only console I kept. It is a Philco 40-216 with wireless "Mystery" Remote Control of stations and volume. It has been restored and is working. |
| | |
| --- | --- |
| | |
| Burns Horn Speaker Celluloid Petals and Utah Cone Speaker | Crosley 124-M "Play-Time" Clock-Radio |
My Antique Radio Restoration Logs
Send Email
Go Back
The McClellan Family Home Page